While the first idea of a smartwatch appeared back in the 1940s, it wasn't until about a decade ago that tech companies made these a reality. Not surprisingly, Apple is the industry leader with a wide variety of watches that offer simultaneous use with the iPhone and other products of the manufacturer.
There are a few common functionalities to every smartwatch, including the ability to control your messages, calls, and phone music. I was interested in knowing more about the unique features that Apple Watches offer, so I tested them and came to a few conclusions. Take a look.
What Is an Apple Smart Watch?
Technology Behind an Apple Watch
Sensitive Sensors
How an Apple Watch Will Track Your Workouts
Heartcare with an Apple Watch
Sophisticated Design
Enhanced Cellular Connectivity
Water-Resistant Apple Watches
Apple Watches Have a Limited Compatibility
High Price of Apple Watches
What Is an Apple Smart Watch?
Before I get into the technical specification, I want to discuss the concept of an Apple Watch.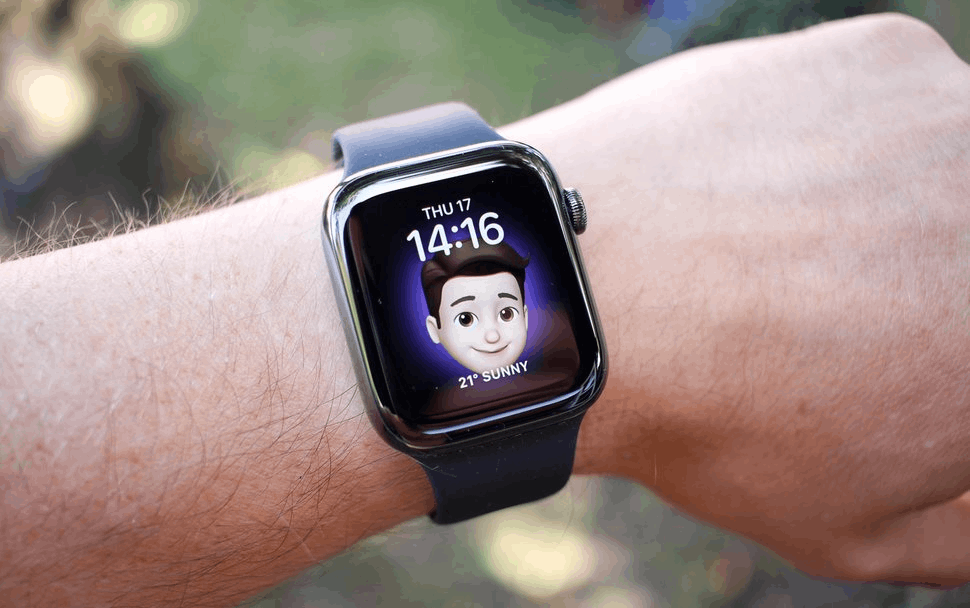 It is a smartwatch that incorporates call and message tracking and a wide variety of fitness functionalities such as fall detection, heart rate monitoring, and step count.
Throughout the years, Apple has stood as the most popular product in this sphere.
And it seems that with each new model (starting from SE 3 to 6), the company improves the already sophisticated design and user-friendly interface.
Perfect for iPhone Users
The greatest advantage of the Apple Watch is that almost all apps that work on an iPhone can be transferred to it.
Thus, not only was I able to make appointments and answer calls, but I also played my favorite music and searched for important information with Google.
Technology Behind an Apple Watch
The most impressive design detail on an Apple Watch has to be the digital crown. It is pretty similar to the crowns you would find on traditional watches but has another purpose.
What the company had in mind was to make the zooming and panning a bunch easier.
The thing is, with most smartwatches, your fingers are simply too big to zoom in on the touch screen without obscuring the screen.
Most importantly, the input from the crown is smooth and accurate. My second favorite when it comes to the design details has to be the Retina touch screen.
Energy Efficiency
Apple outdid itself by manufacturing a smartwatch with a display that showcases high-resolution photos and impressive color contrasts.
In addition to that, you won't have to worry about the battery running out after just a few hours of use.
Also, the featured Force Touch is responsible for intuitive controls as I noticed that there is a huge difference in pressing/tapping lightly and firmly.
Sensitive Sensors
As mentioned, interacting with the digital crown or the Force Touch results in some kind of command. The engine sends feedback about the function that I've requested through a tactile sensation.
One of the coolest points is that I used this feature for interaction between few watches, forwarding info about current heart rate, or covered steps.
Located at the rear of the Apple Watch, the heart rate sensor is one of the most important features of this device.
The sapphire-covered sensor works with the built-in accelerometer and GPS/WiFi radios to provide its users with accurate measurements of physical activity.
S1 Chip
Talking about the design details, the system on chip (S1) plays an essential role in the durability of this watch.
I found that it is covered in resin and ensures that the device stays free from water damage, dirt, and other residues.
Thus, the chance of tear and wear after just a few months of use is significantly lower in the Apple Watch.
How an Apple Watch Will Track Your Workouts
As mentioned, the ability to track physical movements makes the Apple Watch such a great investment.
In a couple of test weeks, I found that there isn't a difference if I engaged in a yoga session, weightlifting, or a bit of cardio workout.
All the activities were precisely monitored, and I was able to enjoy real-time stats.
The presented information includes the time that I've invested in the workout, burnt calories, the pace of the exercise, and heart rate.
Automatic Workout Detection
The coolest point is that the interface is user-friendly and comes down to opening the Workout app and choosing one of the twelve modes.
Impressively, even when I forgot to open the Workout app, the Apple Watch detected increased physical activity and asked me for permission to track it.
Heartcare with an Apple Watch
Health tracking with an Apple Watch has never been easier. Apart from monitoring heart rate, it also detects blood pressure and cardiovascular changes that occur during different forms of exercise.
Along with that, it will inform you of a wide variety of conditions, such as arrhythmia.
Furthermore, I am impressed with the fall detection feature that will detect hard falls or smaller slips.
After sending a fall alert, the Apple Watch initiates an emergency service in case I need to make a call to someone who will help me.
60-Seconds of Unresponsiveness
I was pretty fascinated that the gadget would turn on a 60-second timer, after which it would automatically inform all the emergency contacts of the current location.
It, along with the heart rate apps such as the Blood Oxygen and ECG, is integrated to prevent larger traumas and save lives.
Sophisticated Design
It is a fact that Apple knows how to present its products. All of the Apple Watches are highlighted by interchangeable bands and feature a large display with rounded corners.
And let's not forget the digital crown for zooming and panning the screen features.
What I found is that Apple increases the screen size with each new product.
It was set at 40 and 44mm (diameter) for the SE 4 and SE 5 model, while those prior measured between 38mm and 42mm.
Continuous Size Increase
The nice feature of the larger screen is that it allows users to engage in a few apps simultaneously.
While all the models continuously increase in size, one thing doesn't change: the classy and lightweight design.
Thus, while the Apple Watch offers a large screen, it is thin and not bulky, which is why it stands out from several competitors, including Huawei and Xiaomi watches.
Enhanced Cellular Connectivity
Discussing innovative features, the Apple Watch SE 4, 5, and 6 do include the ability to make phone calls or send WhatsApp text messages without being connected to WiFi.
Not only that, but I didn't need to connect my Apple Watch to my iPhone for most of the apps, and it is all because of the enhanced cellular connectivity.
Apple did a fantastic job integrating the GPS radars and cellular connection to all of its latest smartwatches, thus allowing users to enjoy maximum functionality without stable WiFi.
Storage Capacity
One of the most common questions is if an Apple Watch offers enough memory.
Comparing the available models, I found that the SE 3 is set at 8GB, the SE 4 at 16GB.
But both the Apple Watch Series 5 and the Apple Watch Series 6 offers 32GB of storage which is more than enough when combined with the memory that iPhone has.
Water-Resistant Apple Watches
Although seven years have passed since its release, I was pretty impressed that Apple Watch 1 does offer water resistance.
While it doesn't mean that I should take it for a swim, washing my hands while wearing this model will result in no damage.
Guided by this idea, Apple improved the design, and today, the SE 2, 3, 4, 5, and the latest Apple Watch Series 6 are all water-resistant to the point that I can swim in a pool or shallow waters with it.
While it doesn't mean that it will withstand high-pressure waters or scuba diving, the ability to take a dip with the watch on is pretty cool.
What About Showers?
As Apple suggests, all models except for the SE 1 can be worn while taking a shower as long as the display isn't exposed to shampoos and perfumes.
Keep in mind that while sport rubber bands are water-friendly, going for a swim with a leather or a steel band isn't the best decision.
Apple Watches Have a Limited Compatibility
One of the biggest issues with Apple Watches is that it won't do you any good unless you have an iPhone.
Unfortunately, most Android-inspired smartwatches offer greater compatibility both when it comes to the different smartphone models and when it comes to connecting the watch with other devices.
What I found throughout the few test weeks is that, without a Watch app on my iPhone, I wouldn't be able to activate integrated features such as the Apple Pay or Cloud.
Not only that but also set up the cellular connection (LTE).
Not Android Friendly
Additionally, while it is Bluetooth-compatible, Android users can't connect their phone to the Apple Watch.
Not only that, but older models of this product will not be compatible with the Apple Watch Series 7.
High Price of Apple Watches
While there is no doubt that I got what I paid for when it comes to the Apple Watch SE 6, it is a fact that Apple products are pretty expensive.
Compared to other tech companies, including Samsung, Xiaomi, and Huawei, these smartwatches have at least a 30-50% higher price.
This means that Apple targets the mid-to-high class and that people who are on a limited budget can't enjoy the innovative features of their products.
This is especially true when considering that you don't only need to own the watch but an iPhone too.
Low Battery Life
Lastly, if I am already paying a high price, I would want a smartwatch that can run for more than 24 hours on a single charge.
Unfortunately, the Apple Watch SE 6 averages 16 hours.
Summary
Judging by my personal experience, Apple did a fantastic job creating a smartwatch that you can call/message with and enjoy more innovative features such as health monitoring and workout tracking.
Yes, it is set at a high price but is still a worthy choice for tech enthusiasts and people who want an all-inclusive smartwatch.