If you're looking for a great pair of truly wireless earbuds, look no more because Yamaha's newest TW-E3B true wireless earphones will surely give you more than what you've expected from earphones.
Showcasing the music instrument manufacturing giant's knowledge on sound quality and music production, the TW-E3B is a showstopper in the market of wireless earbuds as it carries Yamaha's seal and brand of excellence in its earbuds and wireless technology.
Read on and discover what's great about the upcoming Yamaha TW-E3B, its best features, as well as its brand-new and groundbreaking listening care technology that Yamaha developed to improve the listening experience without compromising hearing and sound quality. Take a look to see if these earbuds are the right match for you!
Future-Proofing Your Hearing
Key Features Of TW-E3B
How Does Listening Care Work?
The Specs: Not Bad For The Price
Overall Impressions

Future-Proofing Your Hearing
Yamaha's claim to fame comes with their newest TW-E3B true wireless earbuds set to be released worldwide in September of 2021 is its listening care feature.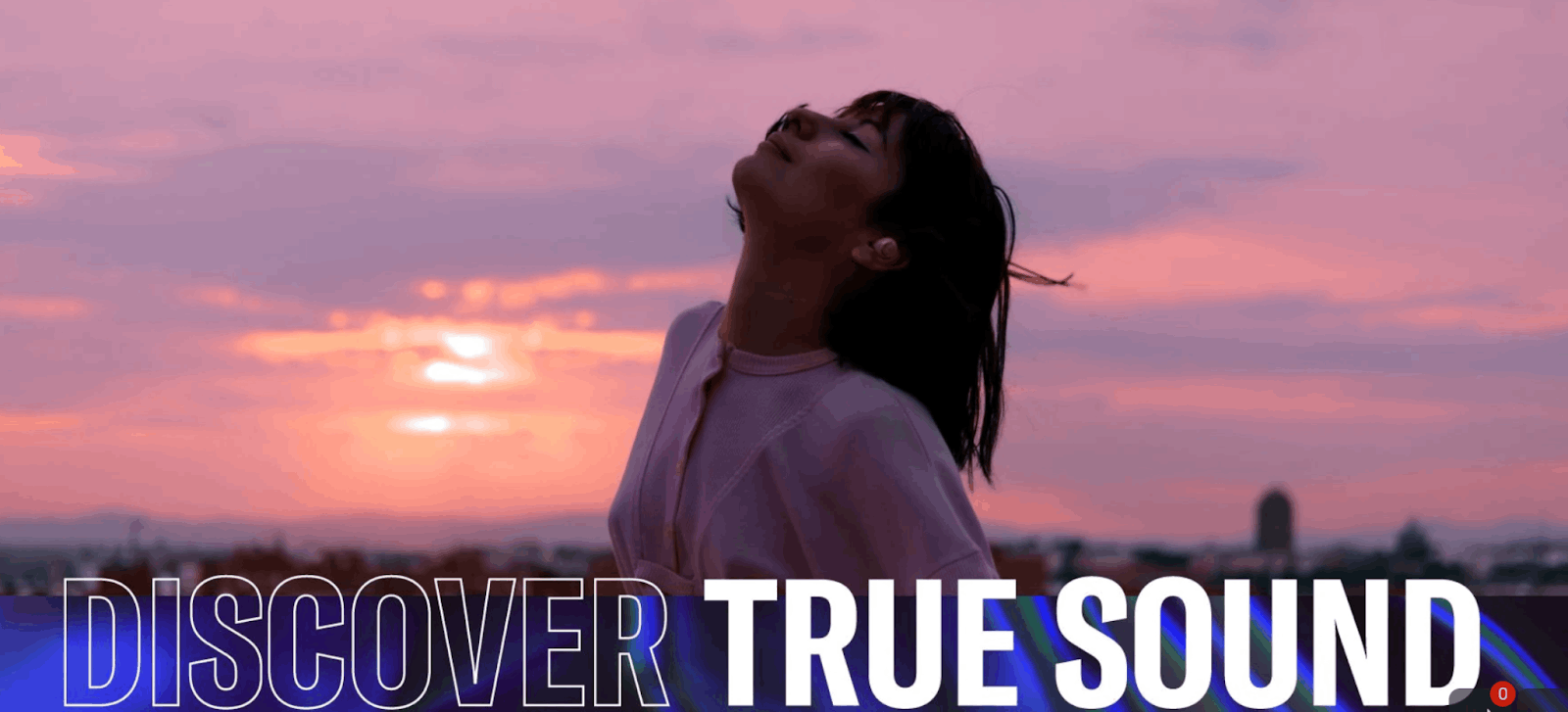 The company made a statement saying that their latest product responds to the World Health Organization's estimate that by 2050, nearly 2.5 billion people will have some degree of hearing loss.
With many truly wireless earphones out in the market, Yamaha is confident that their release of the TW-E3B will be a hit and will soon take over the market because of its compact design, great colors, and long-lasting battery life.
More than that, Yamaha prides itself in its compact design, allowing users to insert the earbud deep into their ear for a better seal and superior listening experience. With a better fit comes better sound quality that does not deteriorate due to sound leakage using ill-fitting earbuds.
A Truly Wireless World
True wireless earbuds such as Yamaha's TW-E3B offer versatility and protection against hearing loss or damage and allow for more flexibility and mobility, much like any other true wireless earphones.
With the rising market of true wireless earphones, Yamaha stands out because its name carries the brand excellence of excellent musical instruments. Who wouldn't want to experience this company's take on wireless earphone technology?
Yamaha faces a lot of pressure since it released its line of headphones and earphones because people expect to experience the same excellent quality the company provides through its musical instruments with its headphones and other listening devices.
Key Features Of TW-E3B
Yamaha's TW-E3B is considered an entry-level earphone, meaning it is not on par with other high-end earbuds, which go big on features and specifications.

It uses the Qualcomm QCC3026 as its main chipset – a high-quality Qualcomm chipset that provides the earbuds with great connectivity and power.
The level of tuning is unexpectedly high for an entry-level earphone. The listening experience can be similar to listening to a Yamaha hi-fi speaker, which shows how much Yamaha had mastered the art of creating good sound and music from its years of experience in the instrument manufacturing industry.
One thing to watch out for with these earphones is that it only has a single microphone for calls. Consequently, the call quality can be quite underwhelming. However, since it is billed as an entry-level headset, this setback will not affect people's buying decisions when it comes to this piece of technology.
The Design Of TW-E3B
While the design is quite common, Yamaha makes up for that by making it available in six fun and gorgeous colors – purple, green, gray, blue, pink, and black – which will surely grab the attention of people.
There is nothing much to complain about with the form and design because its simple and straightforward design does the job well. It does not easily fall off or slip from one's ears, which is a great thing because that is usually the dilemma that people who use true wireless earbuds have.
The top of each earbud has the Yamaha logo, which doubles as a physical button that can be pressed to control the earbuds. The only downside is that one has to push it toward the earbud, so you can feel the pressure if you are wearing the buds.
How Does Listening Care Work?
Yamaha's listening care which is the main selling point of the TW-E3B, is an ingenious and innovative technology that focuses on special sensitivity characteristics of the human ear. Listening care corrects the sound balance depending on the volume for an optimum hearing experience without compromising sound quality.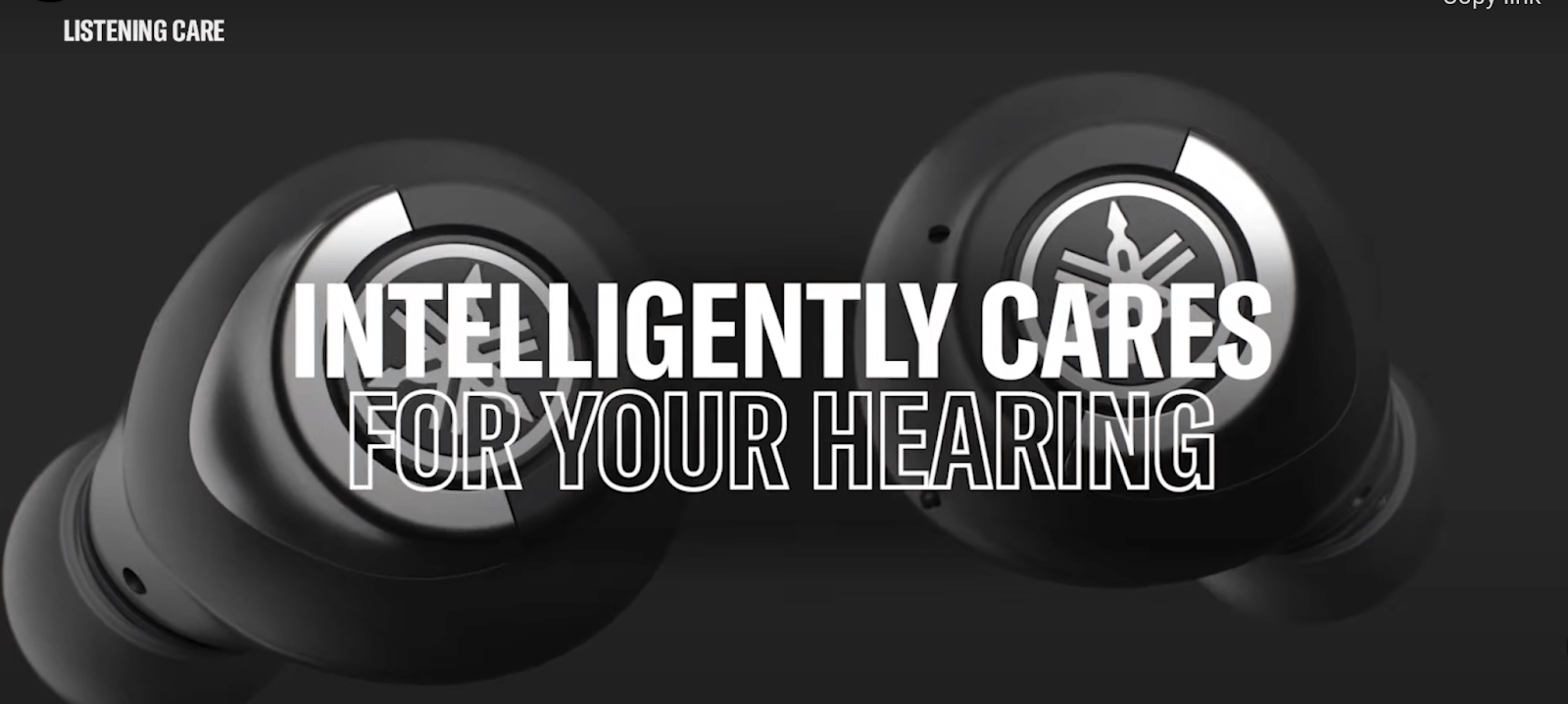 Normally, when playing music, the lower the volume, the higher the bass and treble. This is because the human ear is less sensitive to bass and treble as the volume is lowered. With listening care on, the bass and treble are made constant no matter the volume.
This means that to hear better; the sound does not get louder, but rather, the bass and treble are made much more prominent, resulting in a fresh and crisp sound.
As a result, the sound from these earbuds is natural sounds that reduce fatigue due to excessive and high volume levels.
No More Listening To Reduced Sounds
The problem with listening in low volumes is that as the volume levels get lower, so does the quality and detail of the sound. With Yamaha's lIstening care technology, listeners can hear full-range sounds, from low to high frequencies, even at low volume settings.
Users no longer need to blast up their headphones and run the risk of hearing damage or loss to enjoy their music.
With listening care, Yamaha offered users protection for their hearing while ultimately being able to enjoy high-quality music and sound.
The Specs: Not Bad For The Price
Yamaha's TW-E3B has advanced specifications that make it one of the best true wireless earphones today. It has a single 0.6mm dynamic driver with a frequency response of 20 Hz to 20 kHz and utilizes Bluetooth ® V5.0.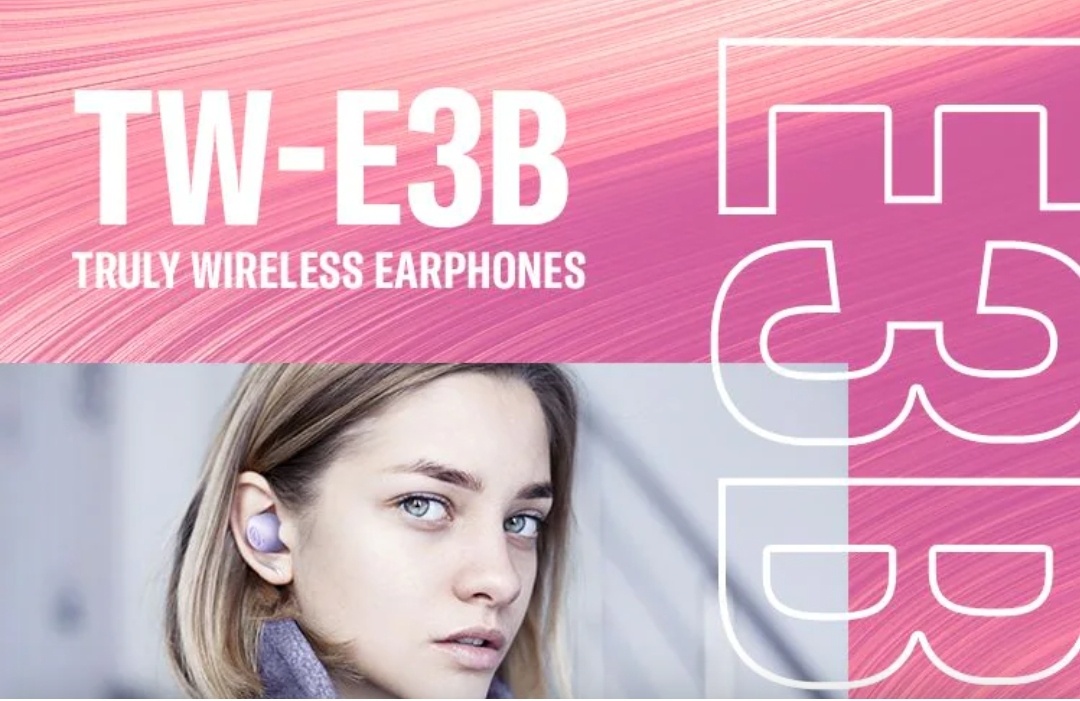 The buds have an IPX5 waterproof rating, so you won't have to worry if you accidentally spill water on it or use it during sweaty workouts. TW-E3B can be fully charged within 2 hours, with 24 hours of continuous playback time.
However, there are also a few things missing from the product. It does not support wireless charging and also does not have active noise canceling feature and ambient sound, which is quite disappointing considering the price point that it comes at.
The buds can be used on both iOS and Android, and it supports Google Assistant and Siri as well. Users can control and customize the performance and settings of the buds through an app that is downloadable for supported devices.
Included Accessories
When you purchase the buds, you get a whole package of accessories to make listening with the Yamaha TW-E3B better. You get a USB type A to C USB power cable for charging, which you can plug into the charging case that comes with the product.
Unlike many companies and manufacturers of earbuds, Yamaha provides four different sizes of ear tips: extra small, small, medium, and large. This is a great consideration to make the product more inclusive and usable for all.
However, there are no silicone sleeves for the earbuds. Users don't mind this at all, though, because it will not affect the usability and wearability of the product.
Overall Impressions
The Yamaha TW-E3B is great for those who prioritize and value sound quality when buying earphones. It's a bargain considering the price of AU $230, which is the price of most wireless earphones today.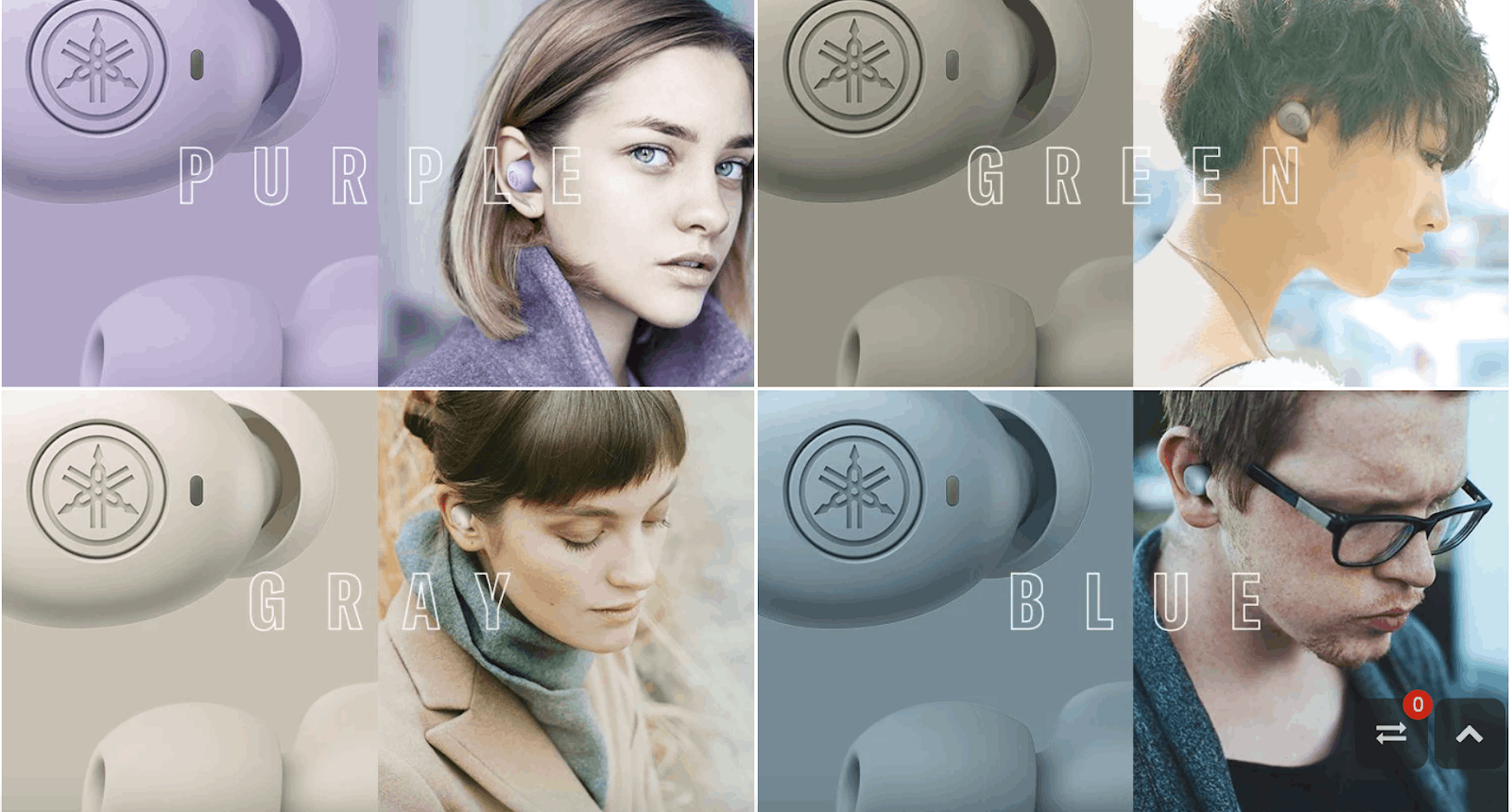 Its listening care function is an unparalleled feature that can be pretty hard to find at this particular price point of the product. While the physical design is ordinary and straightforward, it is still nonetheless a great product because its build and design get the job done.
When it comes to sound quality, it performs well alongside wireless earbuds that come at similar price ranges.
The sound is dynamic and not flat so that music enthusiasts won't be disappointed with these earphones from the music instrument manufacturing giant.
Expected Release
The Yamaha TW-E3B is set to be released in September 2021, but it has already been made available in Korea and Japan. The rest of the world will have to wait to get their hands (and ears) on this impressive piece of technology.
Conclusion
Enjoy a truly wireless experience with Yamaha's newest TW-E3B and listen to the world without breaking the budget and your eardrums. While there are some points for improvement, this wireless earphone's future developments are projected to make it one of the best wireless earphones out there.
Yamaha has once again proven and demonstrated its extensive knowledge of sound engineering through its line of wireless earphones. The company's dedication to making the world a truly wireless space and its constant pursuit of technology and development in music is proof that Yamaha can only get better from here.